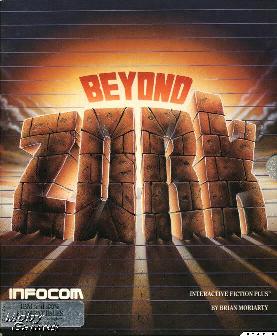 Beyond Zork came in the newer standard box (much the same as the standard "book-like" box but with a slipcase containing a cardboard tray which contained all the package elements). It contained a Technical Manual, "The Lore and Legends of Quendor", and a map of "Southland of Quendor".
In this, the first Zork game to feature an In-Game map system, Infocom made large changes in the style of the game. Some of the changes that took place in this game were:
| | |
| --- | --- |
| | Player Statistics (You had to give your Character various numbers to represent his/her attributes. This was reminiscent of the Dungeons & Dragons game.) |
| | There were various magic items throughout the game that raised certain stats for short periods of time, to enable you to do certain actions. (I.E. Use the Amulet of Strength to break the doors open and escape the Cellar.) |
| | In this game you actually got to visit the Ethereal Plane of Atrii, (The Celestial home of the Zorkian Implementers) |
| | This game allows you to explore a part of the GUE that is still inhabited and active as a thriving community. (I.E. you can purchase things in stores, and interact with people more than in the other games.) |
| | You had the ability to name items in your inventory. (A list of things that can be named can be found on the Walkthrough Page.) |
Back Story
It is Augur of 966 GUE, 18 years after the Legendary Adventurer made his trek into the GUE and was named Dungeon Master [II], and the Coconut of Quendor has been stolen from the Implementers by an Ur-Grue in the Westlands. You, a lowly Ex-Peasant, must aid the Sorceress Y'Gael in the retrieval of the Coconut.
Tips from the Saint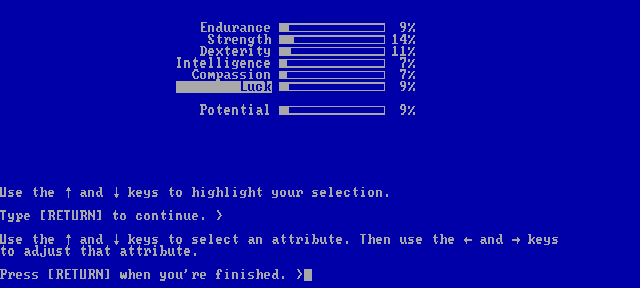 | | |
| --- | --- |
| | Think carefully before you decide on your statistics there are some things you can't do in the game if you leave a certain attribute too weak. (I.E. some spells can't be used if you're not smart enough to decipher the language. You can't carry as much if you're strength is low.) |
| | Don't rely solely on the map in the game, I would make a secondary map as well. (I apologize for not having a map on-line, but I seem to have lost my copy.) |
| | Most of the Magick objects in the game are randomly blessed with different powers. You'll just have to examine them to find out the power of each one. |
| | Because of the Random Nature of this game, it's difficult for me to give an exact walkthrough, so I'll be giving you suggestions of things you need to do in each of the following areas. |
| | There really isn't any form of point system in place, it's just a straight forward run to return the Coconut to the Implementers. |
| | These areas are not in any special order, as you will be returning to several places more than once. |
Walkthrough
To reach my Walkthrough, just click: