Here, I'll display the many things I've collected to show off your love for the Zorkian games to all who view your computer. Though I've yet to find anything completely satisfying, hopefully, I'll get something nice put together soon.

Screensavers
There are many different Zork Screensavers out there, here are my favorites.
Zork Nemesis - the Screensaver
Download this self-extracting Zip and enjoy watching screenshots from Zork Nemesis all while listening to calm, relaxing music from the game. Unfortunately, all of the screenshots are in 640 x 480 size and not stretchable. I don't know too many people who run their monitors that size anymore, but I'll work on my own screensavers for Return to Zork and Zork: Grand Inquisitor once I get my high-speed connection back. The original comments from the Author (JITFACT) are included in the zip, I apologize, but I can't recall who created this great screensaver.

Desktop Backgrounds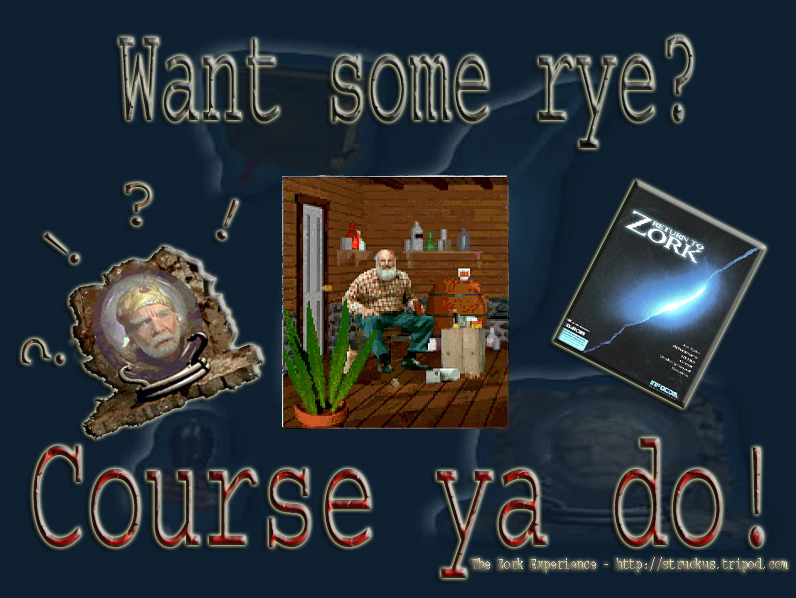 Desktop Themes
Zork Nemesis - This is a fun little theme based on Zork Nemesis. It includes sounds, icons, cursers, and a picture of the temple for your desktop image. Combine it with the screensaver from above and you've got yourself one Zorky environment!
Zork: Grand Inquisitor - If you like the Griff from Zork: Grand Inquisitor, then this is the theme for you! The background image is a large blow-up of the Griff in all his goofiness. Other features I like were the icons which depict several scenes from the game. Who wouldn't want their recycling bin to be represented by a bowl of mead light eh?